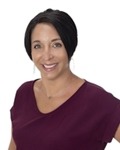 I was born and raised in Almost Heaven, West Virginia. My husband and I along with our three amazing children, made Gilbert, SC our new home when my husband was transferred with his job at CSX. I fell in love with Gilbert and all the Midlands has to offer for families young and old. So much that we are working on having my parents move here as well.
I had such a great experience purchasing a home here that I became fascinated with the real estate process. I thought what a wonderful job, to be able to take part and be on the front lines in someone's home buying and/or home selling goals. The experience gave me the courage to gain my real estate licence and change careers, after 10 years of medical coding and billing.
While most of my new friends in Gilbert know me from the youth baseball fields my lifelong friends and family can tell you that they can count on me to always do what is in your best interest. I understand that people are not just buying a house but rather they are trying to find a place that they can call home. I am ready and able to meet your real estate needs. Whether buying or selling, I promise to work diligently to help you through the process.
In my spare time, I love spending time at the ballfield watching my son play baseball while his Dad coaches, swimming in our pool with our two daughters, hiking and family movie nights. I am involved with the Sarcoma Cancer Awareness foundation which holds a special place in my family's heart.
Call, text or email me anytime to discuss how I can help you sell your property or find your dream home!